Arena di Verona
Verona the city of art and Romeo and Juliet. When you spend your holiday at Lake Garda you certainly have to visit Verona. The Arena di Verona is the largest existing arena in Italy and should not be missed.
---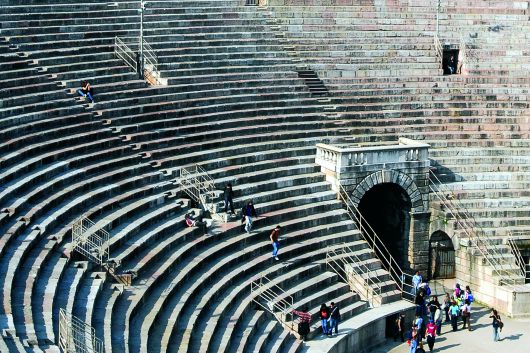 The Arena di Verona
The Roman amphitheater was built in the 1st century and was used for gladiator fights for an audience of 30 000. The size of 153 x 123 meters was impressing. The arena was heavily damaged by an earthquake in the 12th century. Ever since the arena has a size of 138 x 109 meters and offers space for 22 000 people. The arena di Verona is one of the biggest still existing arenas in Italy.
After a long period of no events in the arena people started to think about using the arena for operas. In 1913 Giuseppe Verdi's opera "Aida" was the first opera that was performed in the arena. Nowadays Visiting one of the opera performances is a remaining experience. The season starts in July and ends in September. The performances start at 9 p.m. But do not forget to take one of the chair cushions the stone gets really hot in summer.
You should also visit the most famous balcony in history. The one where Romeo confessed his love to Julia.
You like this article?