Brescia
The town Brescia is only a few kilometers away from
Desenzano del Garda
at the southern shore of Lake Garda. The town extends nowadays with its residential districts and the industrial plants into the upper Po-valley.
---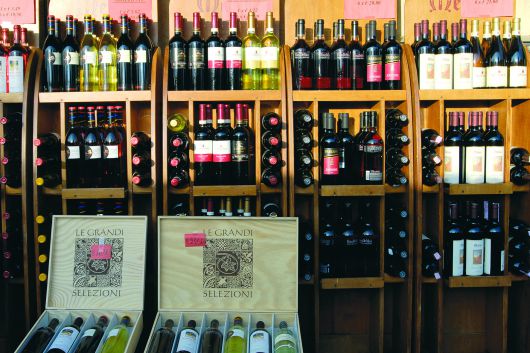 wine from Brescia
Due to its location at the alpine road of Bologna and close to the Splügen pass Brescia was and still is a flourishing trade city and an important interchange. Today Brescia is like Milan one of the most important trading hub with a lot metalworking enterprises, clothing and electro industry.

The main source income of Brescia is not the tourism and so the town was able to preserve the charm of a typical Italian city. The ideal place to flee from the mostly crowded towns at Lake Garda during high season. The shopping tour is much more relaxed. But here are also some interesting sights.
The Teatro Grande is in the Corso Zanardelli and is a classical Italian theater house with a plafond in Baroque. The theater hall with 5 rows of box seats was rebuilt in 1811. The Via dei Museo, the street of the museums leads to the columns of Capitoline temple. Here are the relics of the Roman town Brixia and the largest temple in north Italy. The view over Brescia form the Castello on the Cidneo hill is amazing. In the Pinacoteca Tosio-Martinengo is the most important collections of paintings of the region. So when you spend your holiday at Lake Garda you might make a day-trip to Brescia and experience a beautiful Italian city.
You like this article?