Holidays with your dog at Lake Garda
For many people Lake Garda is the best destination for a holiday. To spend your holiday with your loved dog you should stick to the rules of the region where you are going. However you have to inform yourself before leaving for your holiday.
---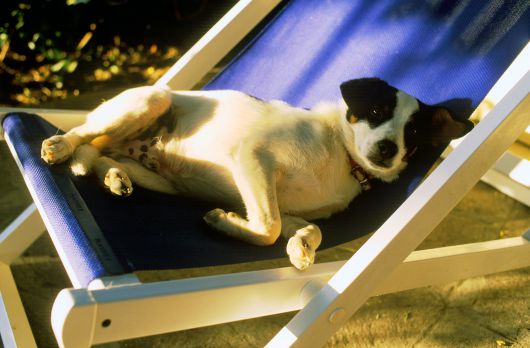 Holidays for the dog
Documents you need to travel with your dog to Lake Garda
Before travelling to Lake Garda or any other country in the EU you have to stick to some rules. First of all your dog has to have an electronic transponder for identification and an anti-rabies inoculation. A tattoo is not enough! And since 3th July 2004 you need an EU pet identification to travel across the EU.

This passport contains the following information:
• name and address of the dog owner,
• a photo of the dog (optional),
• name of the dog,
• dog breed,
• dog fur color,
• gender of the dog,
• number of the microchip,
• implantation date and place,
• all vaccinations with date and validity,
• The name of the licensed veterinary.

This seems a lot to consider, but just ask your veterinary for the passport he can surely help you. He can tell you what vaccinations you need. All vaccinations should be made 20 days before travelling to have the complete effectiveness of the vaccination. At Lake Garda you might strap a Scalibor-Band around your dogs´ neck. It protects your dog against the leishmaniosis, which is carried over by mosquitos in the region around Lake Garda.
Rules in Italy and at Lake Garda
I know most dog owners do not like that, but muzzles are obligatory in Italy and many other EU member states. At Lake Garda your dog does not have to wear it all the time, however you have to have the muzzle with you all the time. Though in some situations the dog has to wear the muzzle e.g. in public transport. From time to time the police asks the dog owner for the muzzle. In all towns at Lake Garda you have to walk your dog with a dog leash.
In the move with your dog at Lake Garda
At Lake Garda you have many possibilities to discover the lake with your dog. Numerous hiking routes, much nature and beaches where dogs are allowed. Lots of restaurants around Lake Garda welcome dog's hearty in their restaurant. When booking a hotel, campsite or a holiday apartment you should ask whether dogs are allowed or not. Most accommodations allow dogs. Below you find some accommodations that allow dogs.
Stick to those rules and you want get any bad surprises during your holiday at Lake Garda.
You like this article?