Caneva World Resort
The Caneva world resort is located between the beautiful villages
Lazise
and
Peschiera del Garda
at the south eastern shore of Lake Garda. The resort is one of the largest theme parks in Italy and expands over an area of 300.000 m² and attracts about 350.000 visitors every year.
---
The Caneva World Resort is divided into 4 main themes. The Caneva World Aqua Park, the Medieval Times Restaurant & Show, the Caneva World
Movieland Park
and the Rock Star Café.
Aqua Paradise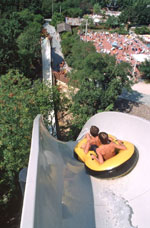 Caneva World: Aqua Paradise Park
The Aqua Paradise is a huge water park with many different attractions. Some of the water slides for example the Stukas Boom or the Black Hole demand courage and let your adrenalin level rise. Other attractions like the shark bay or the coral bay with sand invite the visitor to relax. Everyone gets satisfied at the Aqua Paradise. There are attractions for smaller children as well as exciting action for teenager and adults.
Medieval Times
Caneva World: Medieval Times
Do not miss the unique dinner show at the Medieval Times restaurant. Have dinner and watch a medieval tournament. The tournament starts when the bell rings and it takes you back to the Middle Ages. In the restaurant you sit like the king once does. You have a direct view on the arena where the tournament takes place. Bowmen, swordsmen and knights on horses with lances are part of the exciting show.
Movieland Studios
The Stunt shows at the Movieland studios breath-taking. See all the special effects from Hollywood live at Lake Garda. Despite the stunts shows there are switchbacks, dance shows, magician show and many more. Find more information about the Movieland studios here.
Rock Star Café
This is the first café which is dedicated to Italian music. The cocktail bar is like a museum for music. Enjoy international cooking and cocktails with music and a beautiful ambient. The night festival Latin American dance, clowns, fireworks and much more are waiting for the guests. Entrance free!
Prices
Fullprice
reduced
1 Day 1 Park
25 €
19 €
Year Card
79 €
-
Year Card Family
(Prices per person)
59 €
-
Halloween Pass
29 €
-

Address
Caneva World Resort
via Fossalta 1
37017 Lazise sul Garda (VR)
tel. 045 6969700
fax. 045 6969701
web: www.canevaworld.it
e-mail: info@canevaworld.it
You like this article?