Sea Life Aquarium
The Sea Life Aquarium at Lake Garda is located next to the community Castelnuovo del Garda at the south eastern shore between
Lazise
and
Peschiera del Garda
. Next to the aquarium is the largest theme park of Italy the
Gardaland
. This offers the possibility to combine the visits.
---
The Sea Life aquariums
The Sea Life aquariums are a worldwide network of large aquariums with aquariums all over Europe. Building such an aquarium is a real challenge. At first a good location has to be found. It has to suit the locals, offers advantages for the tourism in that region and it should not collide with environment protection. Than the aquarium is build according to security for the visitor and the animals. The tanks for the animals have to be equipped authentically and species-appropriately. The water quality has to be checked and approved before any kind of living creature gets into the tanks. The biological service center of Sea Life decides which animals are taking to which aquarium. In the center injured animals are nursed and critically endangered animals are cultivated.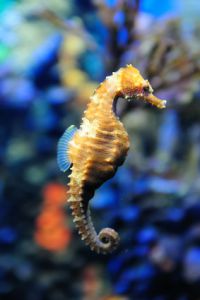 Sea Horse in the Sealife Aquarium
Discover the wonderful underwater world
The Sea Life Aquarium is 3,500 m² large and shows the life on and beneath the surface of the water. The tour at the aquarium leads the visitor through the fascinating haunts with its typical denizens. In the lovely designed tanks are aquatic animals like seahorses, crabs, rays, sharks, octopus, jellyfishes and many more. One of the highlight is the underwater tunnel. The visitor feels like in a submarine where he can look at the animals in their natural environment only. But Sea Life is more than an aquarium. They take care of the environment and the animals in the Sea Life Aquarium at Lake Garda. Besides looking at the haunts the visitor can learn some amazing facts about the different haunts and their denizens. Or did you know that the male seahorses carry the young and give birth? The many interactive tanks help the visitor to learn more about the aquatic animals.


Ticket prices & opening hours at Sea Life Aquarium
From the beginning of April to the end of August the Sea Life Aquarium is open from 10 am to 6 pm. During the other months the opening varied a lot and it is best to look at the homepage of the Sea Life Aquarium at Lake Garda. The prices for adults are € 15. A combination of a ticket of the Gardaland and the Sea Life aquarium is € 23 a day. The family ticket are € 35 to € 49 depending on the number of persons.
You like this article?