Theme parks at Lake Garda
At Lake Garda you have many possibilities to spend your leisure time. One of those are the exciting theme parks at Lake Garda. Especially children are enthusiastic about them.
---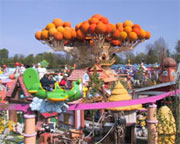 Gardaland at Lake Garda
In the south eastern part of Lake Garda you can find most of the theme parks. They are a special adventure for anyone especially for families. Some examples are the recently opened Sea Life Aquarium, the safari park Parco Natura Viva, the Movieland Studios, the "Jungle Adventure Park" or the Gardaland. Every of these theme parks offers a unique experience.
The Movieland Studios are located at Lazise. At the Movieland Studios you get the chance to see sceneries from many Hollywood movies. Shows like the John Rambo Stunt Show with awesome special effects are compelling for everyone.
One of the best known theme park at Lake Garda is the Gardaland. It is the theme park no. 1 in Italy. Not only for tourists but also for the locals and all Italians.
You like this article?