Parasplash in Malcesine
The Parasplash is a paragliding event in
Malcesine
. Brave paragliders slide from the summit of the Monte Baldo down into the valley to Malcesine. The winds at Lake Garda made it a popular destination for paragliders.
---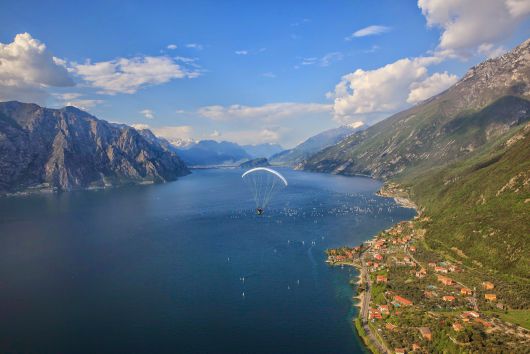 Parasplash
The first daring jumpers of the Parasplash start at 7.30 pm from the starting grid, which is only some meters away from the ropeway station on the Monte Baldo. The landing zone is in the valley about 2 km northern of Malcesine. The landing point itself is a swimming inflatable tower, on which the jumpers have to land. Those who cannot land pinpoint take an involuntary bath in Lake Garda. This is the reason why they all have to wear life jackets.

The Parasplash attracts thousands of visitors who want to enjoy the beautiful backdrop of Lake Garda and the jumpers who want to feel the adrenalin rush. If the weather, especially the winds, is not good enough for the event might be postponed to the next day.
You like this article?