Climbing at Lake Garda
When looking for a diversified climbing spot, Lake Garda is the perfect destination. Especially the northern shore close to the Monte Baldo mountain massif. The region is very famous amongst climbers all over the world.
---
Climbing at Lake Garda
The town Arco is a popular meeting place for the international climbing community. The region offers more than 80 easy, moderate and challenging climbing routes for climbing, top-rope climbing and aid climbing. Most of those routes are well-prepared. Arco is about 6 kilometres away from Lake Gard and many climbing spots can be reached in a few minutes by car or bike. The climbing schools at and around Arco offer courses for one or more days. Longer tours should be booked before your holiday. Since it might be really crowded during high season it might be best to book your campsite, hotel or holiday apartment in advance.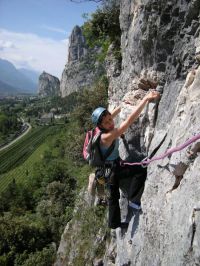 View from the mountains
Unfortunately most of the climbing spots are very crowded. Especially during high season, long weekends and holidays in Southern Germany, in South Tirol and Italy. But there are also some routes that are less crowded. Especially the routes for better climbers. Another reason to come to Arco for any kind of climbing is the Mediterranean climate and the mild temperatures, even during winter. But when you come in winter you should be aware that the temperatures might fall to -6 to -10 °C at night. And in summer it might be too hot to climb at southern rocks.
The best place to do some alpine climbing is the Sarca valley. The climbing areas Belvedere, Calvaria and Marciaga are only some spots. The territory Corno di Bò is located south of Torbole above Lake Garda. The overhanging cliffs made Corno di Bò the favourite climbing spot for free climbers. The San Siro next to Lasino is a natural climbing crag where different climbing techniques can be tried. A sleeper are routes in the Sarca valley. Some are less famous and therefore less crowded. On some weekends you might be alone. But no matter where you climb the view on Lake Garda or and the environment is always amazing.
You like this article?