Golf at Lake Garda
The numerous golf courses at Lake Garda offer a variety of levels of difficulty. Some are very demanding and other are better for beginners.
---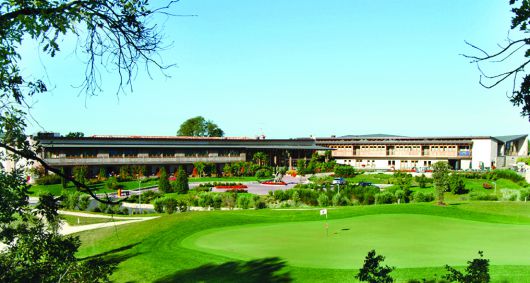 Golf in Peschiera del Garda
Most of the golf courses are located at the southern shore of Lake Garda and offer a fantastic view over the lake, on the Mediterranean hinterlands and on the surrounding mountains. Due to the mild temperatures the golf courses are open all-season. The golf courses all fit perfectly into their environment. Some golf courses have tournaments at the weekend where anyone can participate. The prices are like anywhere else in Europe. Here is a list of some golf courses at Lake Garda.

Golf club Palazzo Arzaga
Via Arzaga 1
25080 Calvagese della Riviera
This golf club has a 9 and a 18-holes golf course with a hotel. This golf course is not directly at Lake Garda but next to the towns Padenghe sul Garda, Desenzano del Garda and Salò.

Golf club Parallelo
Loc. Gargadori 1
38074 Pietramurata
This golf club is north of Riva del Garda and is only for practicing purposes.

Golfclub Paradiso del Garda
Loc. Paradiso
37019 Peschiera del Garda
A 18-holes golf course with a breath-taking view over Lake Garda.

Golf San Vigilio
Loc. San Vigilio,
25010 Pozzolengo
This golf club is located south of Peschiera del Garda and has a 27- and a 9-holes golf course.

Golf Ca´degli Ulivi
Via Ghiandare 2
37010 Marciagia di Costermano
This 18-holes golf course is right above Garda and offers a fantastic view on Lake Garda.

Golf Il Colobaro
Via Colombaro 1
25807 Salò
This small and trim 9-holes golf course is close to the town Salò.

Golf Country Club Garda
Via Angelo Omodeo 2
25080 Soiano del Lago
The 27-holes golf course has a gorgeous mountain view.

Golf Resort Bogliaco
Via del Golf 21
25088 Toscolano-Maderno
This golf course has 18-holes and is very popular.
You like this article?