Sailing and surfing at Lake Garda
Lake Garda is one of the Upper Italian lakes and is the largest inland water in Italy. Due to the stable wind conditions and the Mediterranean climate, with all-year mild
temperatures
, Lake Garda has been one of the most famous sailing areas since 1960.
---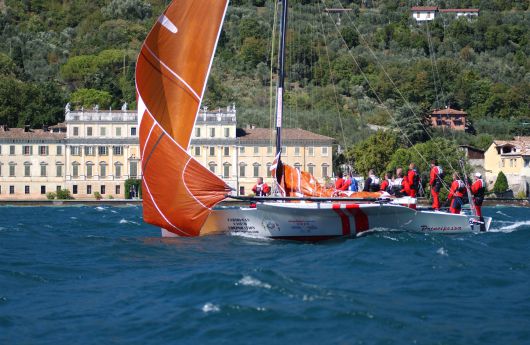 Sailing at Lake Garda
Sailing and surfing on the largest lake in Italy
Around Lake Gard are many yacht clubs that offer berths for own boats or they have boats for rent. Despite sailing and surf courses for beginners and pros the schools offer the possibility to rent or buy equipment. The many national and international regattas, that take place on a regular basis, attract many sportsman and spectators. The most famous one is the Centomiglia, which brings thousands of participants and bystanders to Lake Garda.
The winds at Lake Garda
There are numerous winds at Lake Garda, but the well-known ones are the Pelér and the Ora. The Pelér is a north wind that blows from June to September each day until noon. The Ora is a thermic wind that starts at 1 pm and ends at the sunset. The Ora is very famous with sailors and surfers, because it has a maximal wind strength of 10 m/s. The further northern you are the better the wind conditions get. That is the reason why the northern part of Lake Garda has the most eminent sailing and surfing centers.
Sailing and Surfing and the Northern part of Lake Garda
The most suitable area for sailing and surfing is the northern part. Here obtain better wind conditions than in all other parts of Lake Garda. The to the northern side increasing wind Ora made the town Riva del Garda and Torbole known surfing centers. The large beaches in Riva del Garda offer numerous sailing spots. Torbole is next to the Monte Baldo and is well-known for the beaches that are reserved for surfers and sailors.
But there are also other towns that are not located at the northern shore which offer good conditions for sailing and surfing. For example Limone sul Garda or Malcesine. Many hotels are specialized and know the needs of people who are sailing and surfing.
You like this article?