The Castello Scaligero at Lake Garda
---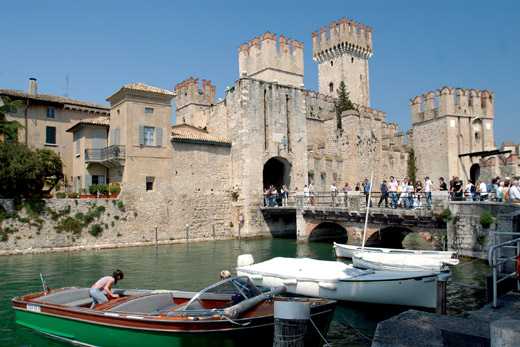 Rocca Scaligera
The Rocca Scaligera of Sirmione is located at the narrowest part of the peninsula. The imposing structure was first a Roman building and was rebuilt in the 13th century at the bidding of the town lord of Verona. The Scaliger made the castle a fortress to protect the town from intruders. The artificially structured harbor was a safe harbor for the Lake Garda fleet.
The 47 meters high tower in the bailey and the three turrets with embrasures and battlements give a very good impression of how the defense worked in former times. In the middle ages the tower was used as armory and main bearing for the military. Nowadays visitors than go on the tower to have a breath-taking view over Lake Garda and the town Sirmione.
But originally the castle was built to defend Sirmione against intruders. The circular wall played an important role. It cut off the peninsula of Sirmione from the mainland. Sirmione can only be entered over a drawbridge.
Opening hours
Tuesday to Sunday from 9.30 am to 7 pm
Monday closed
Prices
>25 years old € 4
18 – 25 years € 2
< 18 and seniors older than 65 years free
You like this article?